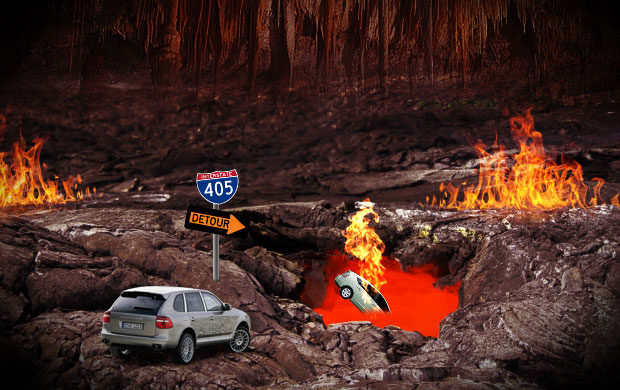 WEST LA—Last night, the L.A. Department of Transportation admitted the 405 freeway detour at Wilshire Blvd. leads commuters into a dark, underground tunnel ending with a 20 foot drop into a bubbling pit of molten lava.
Commuters who take the freeway detour have to traverse a rocky, five-mile labyrinth, full of sharp turns, before finally plummeting into a burning sea of fire.
The tunnel, located at the end of Barrington Ave., gradually descends to 500 feet beneath Mount St. Mary's College.
Most drivers who enter the tunnel are unaware of their impending doom because they are either texting or playing Draw Something.
This morning, Mayor Villaraigosa addressed the detour mishap on KTLA's Morning Show with Michaela Pereira. He blamed the fiasco on a "miscommunication between [himself] and the department of transportation."
"Mistakes happen, let's not point fingers," said Villaraigosa. "The detour is classic example Murphy's Law."
Villaraigosa's lack of sympathy has L.A. residents questioning whether or not the detour was a conspiracy to thin out traffic by decreasing the city's population. This theory is backed up by evidence that, while the detour was in place, no actual improvements have been made on 405. In fact, construction workers have been spotted passing time by playing games such as jackhammer racing and bulldozer chicken. An investigation is underway.
The underground tunnel is currently being sealed off, and commuters are now advised to take Sepulveda Blvd., which is slightly less painful than the detour.
Readers are encouraged to voice their opinion regarding the 405 detour by leaving a message at 323-642-REAL.
*** Enjoy this article? Check out this YouTube channel ***