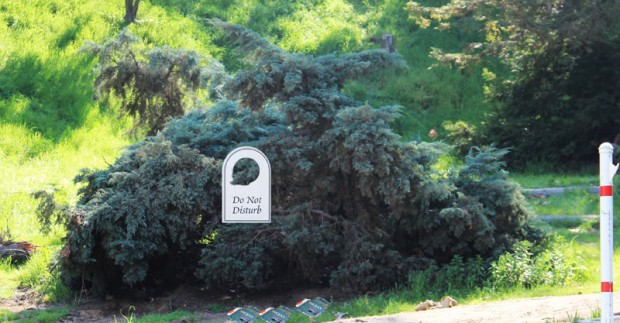 LOS ANGELES—This month's Zagat guide named Griffith Park the best place in Los Angeles to have a secret gay love affair.
Zagat Editor, Stewart Arbuckle published a three-page article citing how Griffith Park scored top marks in this popular category because of its "vast selection of large bushes and shrubs, which provide both ample headroom and necessary privacy during a secret gay encounter."
"Griffith Park has the necessary elements to provide all the secrecy you can ask for. Your spouse will never find out. Trust me," he wrote.
Arbuckle's article took into account the feedback of more than 200 men who frequent the park after work, before going home to their "boring old bag of a wife."
"Everyone I interviewed had positive things to say about that park," wrote Arbuckle. "For example, Carl Miloy, 34, said 'The park allows me to be private and discreet, which is extremely important to me.'"
Arbuckle pointed out that the park also does a great job of guiding first time visitors by providing very subtle clues.
He concluded the article by saying, "The only downside is the sad feeling you get when you leave the park at 7:30pm, knowing another bland meatloaf is waiting for you on the kitchen table."
The review is currently available in this month's Los Angeles Zagat guide, which can be purchased at newsstands everywhere.
*** Enjoy this article? Check out this YouTube channel ***