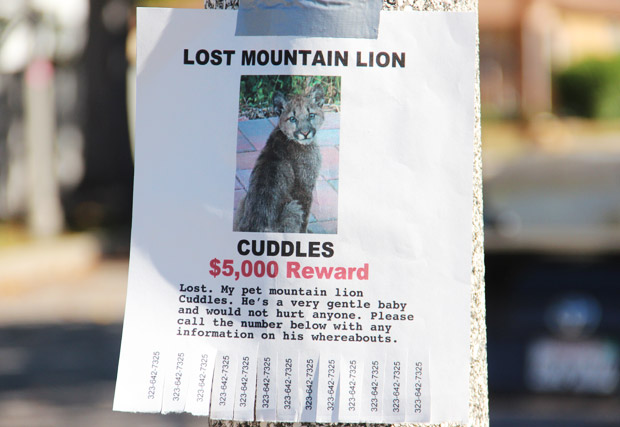 SANTA MONICA—Heartbroken over the recent disappearance of his mountain lion, Cuddles, Jacob Filmore has decided to offer a $5000 cash reward to anyone who can help locate his pet.
"I let Cuddles out yesterday morning to go potty and he hasn't returned," said Filmore. "I hope he's ok."
Filmore has been pinning flyers up in the Santa Monica area for the last 24 hours in the hopes that he'll receive a phone call. His flyer assures residents that Cuddles is very friendly.
"He loves to be petted," said Filmore. "He also likes to roll over on his back and paw at string."
Readers are encouraged to call The Real LA Times at 323-642-REAL with any information pertaining to Cuddles.
Update 5/25/12:
We have sad news to report. A loyal reader sent in a voicemail stating that Cuddles has been shot and killed in downtown Santa Monica. Please listen to his message below. We have already informed Jacob Filmore that his pet has been murdered.
Audio clip: Adobe Flash Player (version 9 or above) is required to play this audio clip. Download the latest version here. You also need to have JavaScript enabled in your browser.
*** Enjoy this article? Check out this YouTube channel ***