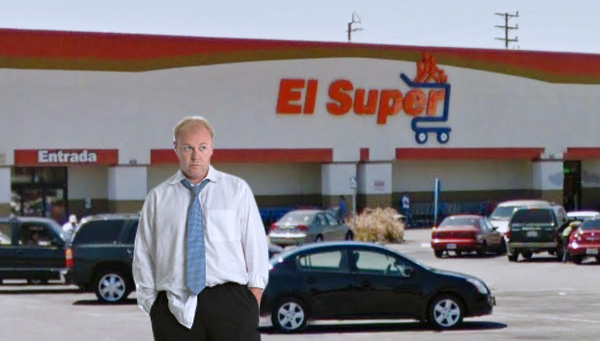 PANORAMA CITY—Today Panorama City residents were startled after discovering a white person wandering aimlessly around the El Super grocery store parking lot.
Residents described the man, who was later identified as 38-year-old Todd Channing, as gentle and timid.
"Gringo es como un pulpo en un garaje," said Nancy Vazquez, who noticed Channing as she exited the store. Vazquez added that she hasn't seen a white person in Panorama City since Montgomery Ward went out of business.
Channing's presence gradually attracted the attention of over a dozen passersby, one who offered him a glass of tap water without success.
Curious workers from nearby Pollo Campero and Tres Hermanos formed a circle around Channing. They attempted to communicate with him using hand gestures while surveying his strange, bright green, plastic looking shoes, decorated with holes and an alligator logo. Panorama City natives quickly dubbed Channing, "El Gringo Perdido."
Just as Channing began to adjust to his surroundings, Panorama City Police arrived at the intersection of Van Nuys and Vesper, where they tried to disperse the large crowd.
"Manténgase alejado de la persona blanca, podría ser peligroso," yelled police.
Sergeant Jorge De La Guerra made several attempts to cast a net over Channing, however he was no match for Channing's cat-like reflexes, attributed to years of playing Wii Fit.
"No dañan el gringo," shouted a frantic little girl, who had become attached to Channing in the preceding hours.
As police loaded a tranquilizer gun and aimed it at Channing, a mysterious group of men in cowboy hats shoved Channing into a large cage, then loaded it onto a pickup truck. The truck quickly sped off.
Moments later the truck arrived in Porter Ranch where Channing's cage was opened in front of Soup Plantation.
"Ser libre Guero," the men shouted as Channing hopped out of the cage.
Tears of joy rolled down their cheeks when Channing entered Soup Plantation and began foraging for leafy greens in his natural habitat.
As the mysterious men drove off into the sunset, one patted another on the back and whispered, "El gringo ya no está perdido."
*** Enjoy this article? Check out this YouTube channel ***