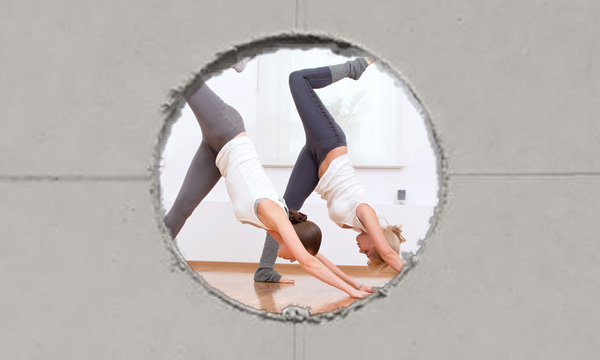 SANTA MONICA–When faced with stress from working a 12-hour day running a search engine optimization business in Downtown Santa Monica, Bob Krebler frequently turns to yoga to release pent-up energy during his breaks.
"Yoga definitely gets my blood flowing," said 41-year-old Krebler, while holding a power drill.
Krebler's routine lasts between 30 seconds and 5 minutes, and involves bending the knees a few inches while pressing the face up against a common wall shared with neighboring YogaWorks. His technique is known to increase one's heart rate, stiffen the neck, and strengthen the right forearm.
"I work up quite a sweat. When people see me after my session, they assume I take a Bikram class," said a drenched Krebler, while standing on a soggy yoga mat.
"My clients often comment on how relaxed I am and ask what my secret is. My answer is always yoga," added Krebler.
Aside from providing the health benefits mentioned above, Krebler noted his interest in yoga also provides a great conversation starter when meeting Santa Monica women.
"I usually get a smile from girls on Main Street who notice me carrying my mat into the office," said Krebler. "What can I say? I'm a yoga addict."
Though challenged with a hectic work schedule, Krebler manages to carve out time to attend every yoga social meetup in Los Angeles.
"I'm pretty big in the L.A. yoga community," said Krebler. "Most of my romantic relationships have stemmed from yoga-related conversations I've initiated."
Krebler claims that while yoga has improved his life significantly, there is one downside.
"I spend almost $400 a month on yoga DVDs and subscription-based internet sites containing videos of obscure forms of yoga, like Kundalani and Iyengar," said Krebler.
Added Krebler: "Plain yoga just doesn't do it for me anymore."
*** Enjoy this article? Check out this YouTube channel ***