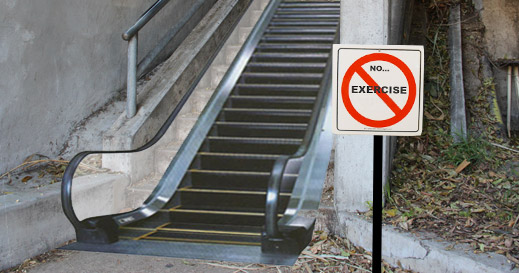 SANTA MONICA—Last week, the popular Los Angeles exercise spot known as the 'Santa Monica Stairs' reopened as an escalator.
This move is the first of several aimed at deterring Santa Monica residents from using city property as their personal gym. The stairs were overrun by fitness boot camps and exercise buffs in the early 2000s, making it difficult for pedestrians to get from Adeile Ave. to Ocean Ave.
"The stairs were never meant to be a public exercise area. They were simply meant to be stairs," said Santa Monica Mayor, Richard Bloom during last week's escalator unveiling. Bloom seemed especially perturbed when he added: "Santa Monica residents seem to feel they're entitled to exercise wherever and whenever they damn well please."
Bloom's statement came as a surprise to residents, given his well-known stance on fitness.
Now, many Santa Monica locals are upset that they can no longer perform their daily exercise routine. Rebecca Lori, 32, a stay-at-home girlfriend, grew accustomed to running up and down the stairs on a daily basis between her 9:00am Bikram Yoga class and her 11:00pm Turbo Pilates class.
"They can't stop us from exercising on city property," said Lori. "We are too strong," she told reporters while doing bicep curls outside the Tender Greens restaurant on 2nd and Arizona.
Lori has already found several new public exercise areas in Santa Monica to replace the 'Santa Monica Stairs.' On weekday mornings she can be seen doing pullups at the post office and cartwheels outside the DMV.
*** Enjoy this article? Check out this YouTube channel ***