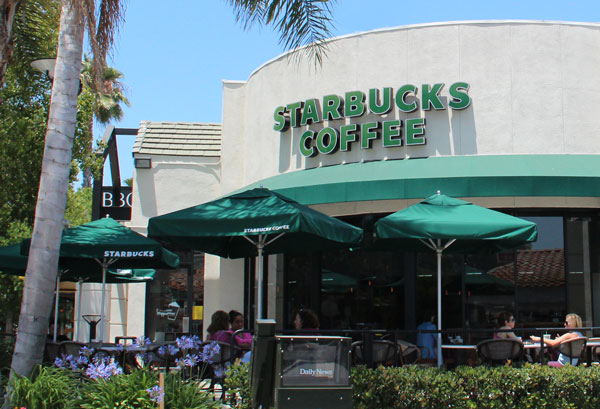 STUDIO CITY—Today the Starbucks on the corner of Allott Ave. and Ventura Blvd. hosted the 23rd Annual Name-Dropping Competition.
The event attracts contestants from all corners of Los Angeles, many who have been honing their name-dropping skills all year. Tim Sherwood, 27, warmed up for the competition on the patio by sipping a hazelnut latte while speaking very loudly about his affiliation with Ted Danson.
"Sherwood is a formidable opponent," said Starbucks Barista, Haley Fitzgerald, moments before the competition. "Tim has at least 50 stories about the types of clothes Ted Danson brings to his dry cleaning business," she added.
During the competition, each participant has five minutes to tell a personal story. Contestants are judged by a panel of previous name-dropping champions, such as Clyde Williams (who many consider the Michael Jordan of name-dropping). They're given points based on the number of names dropped, current status of the celebrities, and the volume of their voice.
This year's competition was fierce. On a typical day, a patron at this particular Starbucks averages two celebrities per sentence. In order to qualify for the competition, one must average at least five.
The winner of the competition was 34-year-old Blake Edwards, a bouncer from West Hollywood, who mentioned a record 47 celebrities in his story. He clinched the title by stating that he once had dinner with all three Jonas Brothers and all five Wayans brothers at the same time. This story put him three celebrities ahead of second place Shelly Porter, who claimed that she became BFFs with Jennifer Lopez and Mariah Carey while sitting between them on a plane to Dallas.
As the winner of the competition, Edwards is entitled to free coffee for a week, and qualifies for the 2014 Name-Dropping Olympics at the Brentwood Starbucks.
*** Enjoy this article? Check out this YouTube channel ***