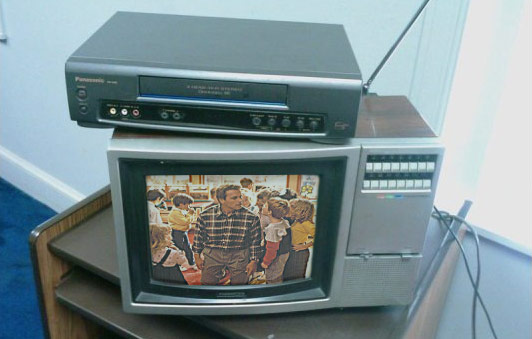 GLENDALE—Lester Higgins recently celebrated the 20th anniversary of the L.A. Riots by watching a VHS copy of Kindergarten Cop on the Panasonic VCR he looted from Kmart.
"The picture gets fuzzy now and then," said Higgins. "Luckily, I also grabbed a cleaning kit on my way out."
Over the years, Higgins has passed on various technological advancements made in home movie entertainment. He's confident another opportunity—or loophole—will allow him to eventually upgrade his home theater system.
"I'm pretty sure I can score a Blue-ray player if the Trayvon Martin jury botches the verdict," said Higgins, who spent last weekend scouting for potential targets. "I found a Radio Shack in Toluca Lake that has 1/16" single-pane windows. I can break it with a single brick."
Higgins, 46, prides himself on mastering the art—some might say science—of taking possessions from others during times of chaos, confusion, and despair. Minutes after the 1994 Northridge Earthquake struck, he was able to snatch a Super Nintendo, Lego Castle, and several Treasure Trolls from a toppled KB Toy Store.
"My philosophy is that people can get whatever they want in life, as long as they pick the right time to take it," said Higgins.
In 1999 Higgins made thousands selling bogus Y2K survival kits, which included a broken flashlight, used bandages, and canned goods filled with sand.
As time went on, Higgins pushed himself to pull off more elaborate scams during times of crisis, which led to his crowning achievement.
"I'd say my biggest accomplishment happened right before the financial collapse of 2008, when I made a killing managing a real estate hedge fund for Goldman Sachs," said Higgins.
*** Enjoy this article? Check out this YouTube channel ***