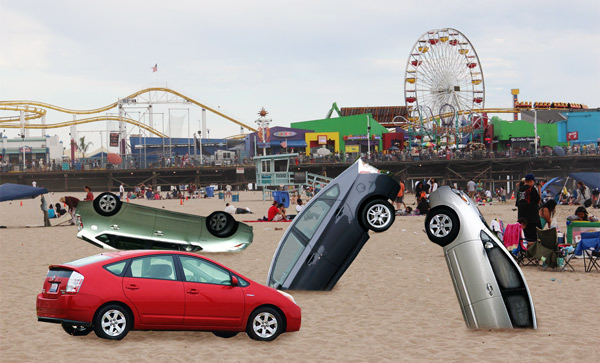 SANTA MONICA–Yesterday, the L.A. Beach Cleanup Meetup found dozens of unwanted Priuses washed up near the Santa Monica Pier—a scenario that meetup leader Tom Clemens says is "all-too-common."
The group spent most of the day dismantling the Priuses in an effort to recycle the individual parts.
"Most Santa Monica residents discard their Prius after the battery dies," said Clemens. "The battery is so expensive to replace, they buy a new Prius and leave their old one on the beach."
Because the Prius isn't biodegradable, it can take thousands of years for the car break down. In addition, the Prius poses a serious threat to ocean wildlife.
"If I had a dime for every seagaull I found trapped in a Prius cup holder, I'd be rich," said Clemens.
Clemens fears that by 2016, Santa Monica Beach will be nothing more than a Prius landfill.
"I want my kids to enjoy this beach one day, without having to stare at these plastic eye-sores."
Clemens recommends that all Prius owners think twice about tossing their car in the Pacific Ocean.
*** Enjoy this article? Check out this YouTube channel ***