HOLLYWOOD—Yesterday, an angry Hulk stormed off Hollywood Blvd. in a frenzy after a labor dispute. According to an unnamed source, Hulk became enraged when he did not receive a tip from a Wisconsin family who asked him to be in their group photo.
"Hulk disappointed! Hulk need tips to pay electric bill. Hulk no want to move back in with parents," said Hulk as he made his way toward his studio apartment on Vine St.
Those close to Hulk say that this is simply a case of "brief reactive psychosis," and there's no reason for concern.
"He gets this way sometimes … after all, he is the Hulk," said Snow White while taking a cigarette break from her shift at the Disney Store. "Look, money is tight in this town and we all get stressed about not being able to pay our bills," she added while munching on an apple.
White also told reporters that because she gets paid minimum wage by Disney, she has to share an apartment with seven older men.
"People tend to assume we all have this glitzy, glamorous lifestyle, but we have real problems just like everyone else," said White. "You see Tinkerbell over there," White gestured. "That powder under her nose is definitely not pixie dust."
White then pointed out that her friend, the Mad Hatter, uses all of the tip money he earns on Hollywood Blvd. to pay for his psychiatrist.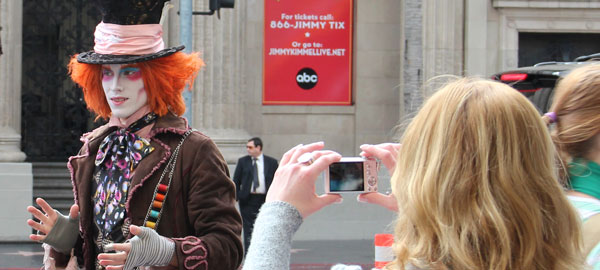 "The lack of healthcare is a common problem for all of us, especially Cookie Monster," said White. "Most people don't know he's a diabetic. Luckily, Pinhead from Hellraiser usually has an insulin needle handy."
"Yeah, money is an issue for all of us," said White as she extinguished her cigarette and prepared to make her way back to the Disney Store. She added, "You know, the only one of us that managed to avoid being in this rut was Richie Rich."
*** Enjoy this article? Check out this YouTube channel ***