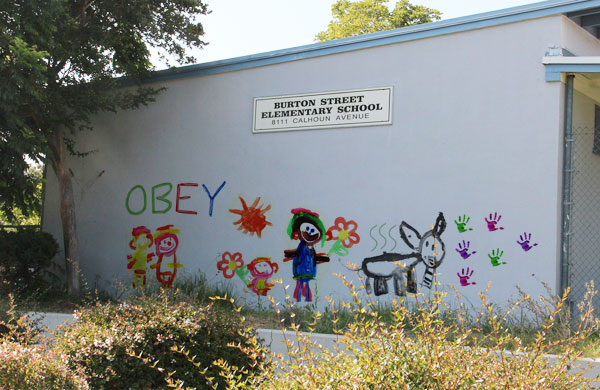 VAN NUYS—"In hindsight, it probably wasn't a good idea," said substitute teacher Ryan Denny, 26, days after showing his kindergarten class the 2010 documentary, Exit Through the Gift Shop.
The movie, which sheds light on the underground world of illegal street art, inspired kindergartners to sneak away during recess and create their own art on school property using permanent finger paint. Many of their pieces incorporate social commentary, such as the school's lack of Play-Doh and Principal Crankston's abundance of cooties.
After discovering the art painted outside his office, Principal Crankston held an impromptu assembly to tell the kindergarteners, "You little brats can't all be Banksy."
"If you keep this up, you'll end up in jail," added Crankston.
The message isn't deterring 5-year-old Guillermo Ramos who vows to one day "draw all over the city like Banksy."
Ramos is being hailed as a prodigy in the L.A. art scene for his piece, titled "Crankston the Poopy Pants."
"His technique is brilliant", said local art critic, Christopher Knight. "I really like his use of green finger paint to emphasize the stench emitting from the principal's body."
With the help of Knight, Ramos' work will be auctioned off at Burton Elementary School's next PTA meeting with a starting bid of $50,000.
*** Enjoy this article? Check out this YouTube channel ***