SANTA MONICA—Two years ago, the City of Santa Monica revolutionized the way visitors paid for parking by installing credit card readers on every parking meter. This system held up well until many residents noticed they were maxing out their credit cards to pay for parking.
"Most of my paycheck goes toward paying for parking," said Cory Gillespie, who works at The Gap on the 3rd Street Promenade. Gillespie, 22, recently requested a second shift at The Gap to help pay the parking fees he accumulates while going to work. "It's a vicious cycle," he added.
Frustrated by the city's stringent parking requirements, Santa Monica residents like Gillespie have demanded that City Council take action and provide alternative parking options.
After dodging the issue for several months, Santa Monica Mayor Richard Bloom finally held a press conference yesterday to announce that he has "revolutionized the parking system."
"Dust off grandma's old necklace because it just might buy you two hours at the pier," Bloom told reporters. "Time is valuable … and now you can buy time with your valuables," he said as he held a wristwatch up to news cameras.
Starting today, all Santa Monica parking meters are equipped with compartments to insert irreplaceable heirlooms and keepsakes that have been passed down one's family tree for centuries, in exchange for street parking.
The intelligent, cutting-edge parking meters have internal scanners that can calculate the age and value of practically every precious metal in a matter of seconds. The meters then translate the value into Santa Monica parking time.
"Don't try to fool the machines by putting in imitation jewelry from Chinatown," said Mayor Bloom. "I'll personally tow your car."
Santa Monica residents have already begun using the redesigned meters.
"I'm a little hesitant to insert my grandfather's pocket watch that stayed with him throughout his World War II deployment. But on the other hand I do really want to park so I can buy an ahi tuna salad from Tender Greens," said Brian Stanford, 32.
Luckily Mayor Bloom, who was lurking close by, helped Stanford make up his mind by yelling, "Do it! You won't miss that watch."
In addition to being able to calculate the physical properties of each item inserted, the parking meters can also determine the sentimental value and adjust your the allotted time accordingly.
"It's Amazing!" exclaimed Ashley Green, 23. "The parking meter knew I used to put my great grandmother's earrings under my pillow every night when I was a child, so it gave me eight extra minutes. Now I can go window shop at Tiffany's."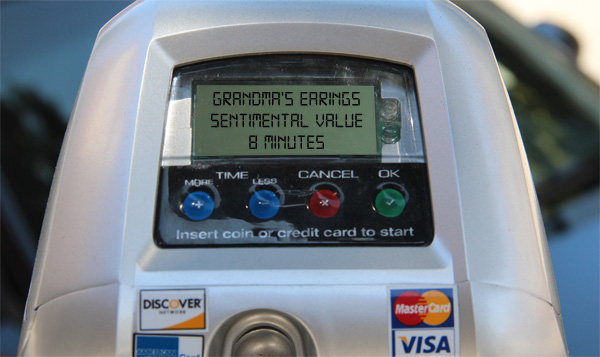 *** Enjoy this article? Check out this YouTube channel ***