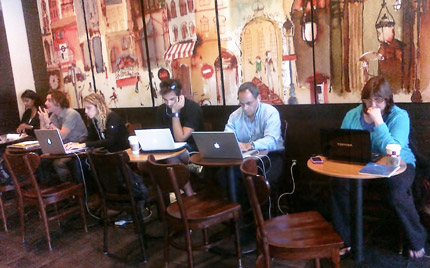 PASADENA—The county's high unemployment rate continues to affect the quality of life of many Los Angeles residents.
Fortunately, there are places like the Pasadena Unemployment Center that will help the jobless get back on their feet in rough times.
"We're lucky to have a place like this to go to," said Greg Simmons. Simmons, 31, has been a regular at the Unemployment Center since leaving his job in June of 2011.
The Unemployment Center provides free WiFi and plenty of outlets to power your laptop for hours while browsing job sites like Monster.com.
"I usually order a small green tea in the morning for $1.50, then stay in my spot for about nine hours," said Simmons. "It's so comfortable, I feel like this is my second home. If they didn't close, I would never leave."
Though coffees, teas, and pastries are available for purchase, the Unemployment Center allows patrons to use the facilities for as long as they'd like without buying a single item.
Melissa Riley, a regular at the Unemployment Center, has recently given up on finding a job after months of searching. She now takes advantage of the Unemployment Center's free stationary supplies to help start her freelance jewelry business.
"I start every day by making cold calls and writing down a list of potential clients on these napkins," said Riley, 36. "When I need a mid-day energy boost I eat one of the Center's complementary raw sugar packets."
While many praise the amenities of the unemployment center, others, like Ronald Hoffman, 58, point out that there's still room for improvement.
"I'd really like to see them install showers here," said Hoffman. "It's a real pain in the ass to wash up using the bathroom sink."
To find an Unemployment Center near you, please visit this website.
*** Enjoy this article? Check out this YouTube channel ***