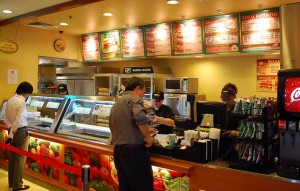 ALHAMBRA—"I could buy an entire avocado for that price," thought local resident Brian Halbert, 42, as he ordered a footlong turkey sandwich at the Alhambra Subway.
While contemplating the option, Halbert began to eye the Albertsons grocery store located across the street. "I could get one there instead. Though, there's a chance their batch would not be ripe," pondered Halbert, who at this point considered forfeiting his place in line to call the Albertsons and inquire about the firmness of their avocados.
Seconds into Halbert's deliberation, his train of thought took a philosophical turn as he questioned why, throughout his adult life, he's been forced to pay a premium to add avocado to his sandwiches. "I live in California for Pete's sake! This state has an abundant supply of avocados. Do people in Idaho pay a premium for potatoes? I don't think so," ruminated Halbert, as he rubbed his chin.
Halbert was now leaning toward passing on the avocado after weighing the pros and cons, and coming to the realization that money doesn't grow on trees, like avocados.
He took a deep breath while the customer behind him grew impatient. In a desperate attempt to stall, thus creating more time to make a confident decision, Halbert asked the Subway Sandwich Artist a question which he already knew the answer to.
"So, um, how much would it be with the combo?" asked Halbert, who was prepared to hear "$8.63."
The Sandwich Artist replied to an inattentive Halbert, who suddenly had a fantasy—an array of avocado trees in his backyard. Halbert envisioned a Garden of Eden that allowed him freedom from Subway's avocado highway robbery. He looked up at the long, healthy branches, and smiled as avocado slices slowly descended directly onto a floating turkey sandwich. Though, before he could grab it and take a bite, the trance was interrupted by an anxious customer who tapped a drooling Halbert on the shoulder and said, "C'mon buddy—we don't have all day."
At this point Halbert's craving was so strong, he could not say no to adding avocado to his sandwich, even if it meant biting the bullet and paying an extra dollar this time. He turned to the Sandwich Artist and said, "Yes please."
Halbert approached the register to complete the transaction, opened his wallet, and quickly realized he had no cash, only a debit card.
"Can I use my debit card to pay?" asked Halbert.
The Sandwich Artist replied, "Yes, but it will cost an extra dollar."
*** Enjoy this article? Check out this YouTube channel ***