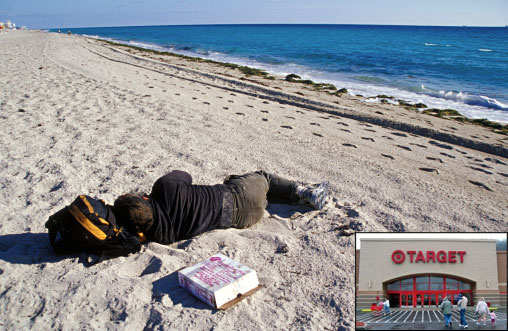 SANTA MONICA—It's been almost one year since 23-year-old Robert Price voluntarily quit his minimum wage job at the Van Nuys Target. While working at Target as a sales associate, Price grossed about $900 per month after taxes, which barely covered his rent, utilities, car payment, and insurance.
"Having a dingy roof over my head wasn't worth the pain and suffering that comes with working retail," said Price.
Like Price, many young people in L.A. are choosing a life of homelessness in upscale urban areas like Downtown Santa Monica over slaving away at low-paying jobs.
"It's sad to think that my former coworkers will end up wasting one third of their lives at Target when they could be seizing the day like me," said Price.
Instead of attending to rude customers, Price spends most of his day reading works of Shakespeare at the Santa Monica Library. He also attends a bi-weekly homeless book club meetup, which is where he met his girlfriend, Julie.
"I've made lots of friends at the library who are in the same boat as me," said Price.
During reading breaks, Price enjoys free organic fruit samples at the Santa Monica Farmers Market and Whole Foods.
"I feel much more energized on my new diet," said Price. "I used to feel groggy after eating pizza and ICEEs at the Target Cafe."
At night, Price sleeps comfortably on the beach sands in a Tempurpedic sleeping bag.
"When I lived in Van Nuys, I had to play a 'Sounds of the Ocean' CD to drown out the police sirens," said Price. "Now, I actually get to listen to the sound of the ocean at night."
Price told reporters that he hopes to serve as a positive role model to America's frustrated 99%.
"I want America's minimum-wage earning youth to know that there's a better lifestyle waiting for you in areas like Santa Monica," said Price, who aims to erase society's stigma toward homelessness.
During his spare time, Price continues to work on his self-help book titled, "Life's A Beach: A Homeless Guide To Happiness."
He's already received several offers from publishers such as Random House and has plans for a fall book tour.
"The American Dream still exists," said Price, while sitting on the beach, gazing at the sunset. "You just have to know where to look for it."
*** Enjoy this article? Check out this YouTube channel ***