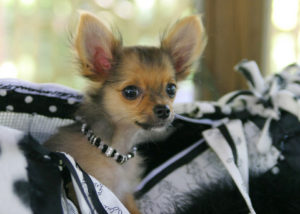 BRENTWOOD—Shortly after receiving a routine manicure and massage at Joy Pet Spa, local Chihuahua Sammy, 4, was accosted by a homeless man on Sunset Blvd.
"Shoo! Get away!" shouted Sammy's owner, Rita Blair, 47, while swatting the homeless man with a rolled-up copy of The Wall Street Journal.
Immediately after the incident, Blair noticed a small cut on Sammy's left rear leg, and decided to drive him to TLC Animal Hospital in West Hollywood.
"I was worried the man had a disease," said Blair. "He was clearly deranged. I could barely make out what he was muttering … something about food."
Blair placed Sammy in the passenger side of her BMW 325i, then double checked that his custom doggy seat belt was properly fastened.
While pulling out of her parking spot, Blair grabbed her iPhone and expressed her disgust with L.A.'s homeless population on her Facebook page, as well as the Facebook page she created specifically for Sammy.
"C'mon boy, drink some wawa," she said at each stoplight, while sticking the tip of a Fiji bottle in Sammy's face.
After arriving at the hospital, Blair placed Sammy in her purse, then darted into the office of Senior Veterinarian Dr. Peter Roberts.
"Look at what someone did to Sammy!" she exclaimed. "I warned my neighbors that more homeless will continue to show up if people keep feeding them."
"Rita, this is the fourth time you've been here this week," replied Roberts. "It's just a tiny cut," he added.
As Blair and Roberts continued their conversation, Sammy's ears suddenly perked up. He turned his attention to a large, flat planel TV mounted on the office wall. His head tilted slightly and his eyes became fixed on the visual pattern of a news ticker which read, "Homeless man injured by hit-and-run driver."
*** Enjoy this article? Check out this YouTube channel ***