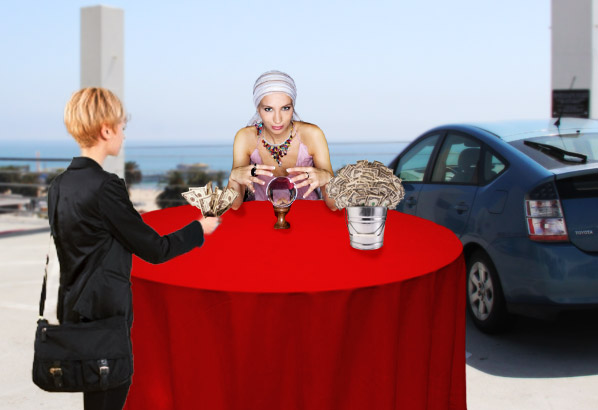 SANTA MONICA—Ever since Veronica Zeller moved her psychic business from the Third Street Promenade to the roof of parking garage four in Downtown Santa Monica, her daily income has more than tripled.
Zeller's unique ability to help shoppers who forgot where they parked–by pinpointing the exact floor and aisle of their car–has distinguished her from other Third Street Promenade psychics.
"Veronica is amazing!" exclaimed Amber Collins, 26. "She knew I drove a Prius simply by looking at me."
For $10 cash, credit, or PayPal, Zeller will channel mystic spirits by first asking for your license plate number. She'll then whisper the number into her cell phone. Within approximately 10-15 minutes, voices from beyond will communicate with Zeller through her magic earpiece.
"Veronica is the real deal," said Brett Conelly, 43. "She knew exactly where I parked my Bentley."
Zeller plans to save the money she earns in the parking garage and eventually attend psychic medical school to purse her dream of becoming an intuitive healer.
*** Enjoy this article? Check out this YouTube channel ***